Fish and Shellfish
An immersion class in cooking from the sea: learn how to choose fish, techniques for preparing it, from trussing to presentation; and how to master perfect cooking.
Meat and Poultry
Our chefs initiate you to the art and methods of choosing, preparing, trimming, trussing, dressing, cutting and cooking white and red meats and poultry. You'll learn everything about the best way to cook them, from rissole to roasting and en cocotte. 
A Ritzy Break
A fun, gourmet break! Prepare a seasonal dish with the Chef, then savor it with a glass of wine. Coffee and mini-cakes round out the experience. 
Lesson n°1
1 hour 15 minutes
65 €
Otherfancies
Gift Cards
Offer a cooking or pastry class with an Ecole Ritz Escoffier gift card. 
Whether your guest dreams of cooking like a Chef, is a vegetarian gourmet or loves luxury street food, we have the the perfect class.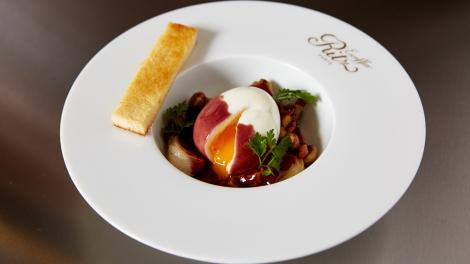 Traditional Dishes
The best of French cuisine, from regional specialties and bistro classics to favorites from the menu at the Ritz Paris.